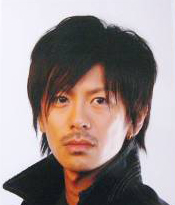 It is being reported that actress Aya Ueto (25) and V6 member Go Morita (31) have broken up, ending a romance that lasted nearly 8 years. Based on information from multiple sources, it appears that they separated in May, about a month after they first publicly acknowledged their relationship.
Rumors about Ueto and Morita started at the end of 2002, when a magazine published an article claiming that they were dating. Neither side acknowledged those rumors until April of this year, when Ueto confirmed that she was in a relationship. At that time, it was also reported that the two were getting close to marriage.
After those reports of imminent marriage, it is said that Ueto and Morita re-examined their plans for the future. Ueto apparently has a strong desire to get married, but based on the fact that Morita is part of an idol group and both of their schedules are so busy that they often cannot meet, they mutually decided to break up and focus on their careers for now. Sources assure that this is not the result of a fight, nor has either side found someone new.
ORIGINAL POST: TokyoHive
---
V6 will be releasing a new LIVE DVD from their ASIA TOUR Concerts in JAPAN, SEOUL and TAIPEI.
The release date is on their 16th debut anniversary, November 1, 2010! (more…)
---
V6′s 37th single "only dreaming/Catch" has made its debut at No.1 on the Japanese music charts, making it the 16th straight year the group has had a Top 10 single.  The same record has only been achieved by two other music groups: B'z and SMAP.
The single has sold close to 60,000 copies, and has been used as the theme song to Yoshihiko Inohara's (34) drama "警視庁捜査一課9係 (Keishicho Sousa Ikka 9-gakari)" and the "Waseda Academy" TV commercial.
It is the fourth consecutive No.1 single the group has had out of a total of 24 No. 1s.
Wow congrats to V6 they truly are veterans in the J-pop field with the amount of time they have spent in it since their debut in 1995!
source:MomoEdgewood
---